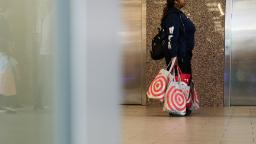 New York
CNN
 — 

Target's quarterly sales fell for the first time in six years as consumers pulled back on discretionary goods and fierce right-wing backlash to Target's Pride Month collection took a toll on the brand.
Target's sales at stores open for at least one year dropped 5.4% last quarter, including a 10.5% drop online. The company also cut its annual sales forecast.
Target's foot traffic dropped 4.8% last quarter, "likely a function of a mix that skews too discretionary, as well as the Pride merchandise issues," Michael Baker, an analyst at DA Davidson, said in a note to clients.
Still, Target's profit came in higher than Wall Street's expectations, and the stock rose 5% during early trading Wednesday. Heading into Wednesday, Target's stock dropped 27% over the past year.
Target was one of the strongest-performing retailers during the pandemic as consumers flocked to stores and its website while stuck at home. But Target has slipped as consumers change their spending patterns.
Americans are spending more on experiences, including concerts and movies, and less on nonessential items. Home Depot

(HD) said Tuesday that consumers took on fewer major home renovation projects.
Target

(TGT) is over-exposed to non-essential merchandise compared to competitors such as Walmart

(WMT) and Costco

(COST). More than half of Target

(TGT)'s merchandise is discretionary – clothing, home decor, electronics, toys, party supplies and other non-essentials. The company in recent years has added more food and essentials to its stores.
"Consumers are choosing to increase spending on services like leisure, travel, entertainment and food away from home, putting near-term pressure on discretionary products," CEO Brian Cornell said on a call with analysts Wednesday.
Cornell said that store theft and safety have also become bigger concerns.
"Safety incidents associated with [theft] are moving in the wrong direction," Cornell said. "During the first 5 months of this year, our stores saw a 120% increase in theft incidents involving violence or threats of violence."
Target has been embroiled in the political culture wars over gender and sexual orientation.
Beginning in May, Target also faced a homophobic campaign that went viral on social media over its annual Pride Month clothing collection. Fueled by far-right personalities, the anti-LGBTQ campaign spread misleading information about the Pride Month products.
The campaign became hostile, with violent threats levied against Target employees and instances of damaged products and displays in stores. Target said on May 24 that it was removing certain items that caused the most "volatile" reaction from opponents to protect its workers' safety.
But Target's response frustrated supporters of gay and transgender rights, who said the company caved to bigoted pressure.
"The strong reaction to this year's Pride assortment" impacted sales during the quarter, Christina Hennington, Target's chief growth officer, said Wednesday.
Target will adjust its Pride Month collection next year, including potential changes to timing, placement in stores and the mix of brands it sells.
"The reaction is a signal for us to pause, adapt and learn," she said.
Other brands, such as Bud Light, have faced right-wing backlash over attempts to be more inclusive.
America's former top-selling beer has targeted by right-wing media and anti-trans commentators since April, after sponsoring transgender influencer Dylan Mulvaney.
The controversy cost Bud Light's parent company about $395 million in lost US sales and Bud Light lost its top beer spot to Modelo.
Source link