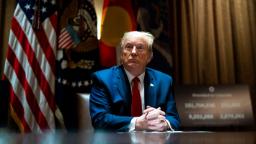 CNN
 — 

Former President Donald Trump asked a judge Friday to move a lawsuit that cites the 14th Amendment's ban on insurrectionists holding public office in an attempt to block his name from the 2024 presidential ballot in Colorado from state to federal court.
The underlying lawsuit, filed earlier this week by Washington-based advocacy group Citizens for Responsibility and Ethics in Washington on behalf of six Colorado voters, is the first high-profile legal case attempting to use the 14th Amendment to derail Trump's presidential campaign.
In a response filed Friday, lawyers for Trump said that the lawsuit relies on a federal law and therefore should be handled in federal court.
"Plaintiffs' effort to ground their Verified Petition in state law cannot conceal the underlying federal constitutional issue in dispute," the filing reads. "Even a brief review of the Verified Petition shows that their case is grounded in the Fourteenth Amendment."
In fact, the filing says, "In total, the Plaintiffs refer to the Fourteenth Amendment 41 times in their Verified Petition."
While the Colordao lawsuit is the first case regarding Trump's eligibility to hold office to reach the courts, a growing number conservative legal scholars have argued that Trump should be barred from presidency because of his attempts to overturn the results of the 2020 presidential election.
A post-Civil War provision of the 14th Amendment says any American official who takes an oath to uphold the US Constitution is disqualified from holding any future office if they "engaged in insurrection or rebellion" or if they have "given aid or comfort" to insurrectionists.
However, the Constitution does not spell out how to enforce this ban and it has only been applied twice since the late 1800s, when it was used extensively against former Confederates.
Republican elected officials who faced 14th Amendment candidacy challenges last year saw mixed results when trying to use federal courts to shut down the litigation. At least one major challenge was blocked by a federal judge, but in other cases, federal judges stayed out of the matter and let the proceedings move forward in state courts.
CREW's lawsuit asked a Colorado state judge to issue an order "declaring Trump disqualified under the Fourteenth Amendment" and barring Colorado Secretary of State Jena Griswold "from taking any action that would allow him to access the ballot," including the GOP primary in March or the general election in November 2024.
CREW spokesperson Jordan Libowitz said Friday that the group doesn't think it's "proper" to move the case into federal court.
Trump has denied wrongdoing regarding the January 6, 2021, attack on the US Capitol and said in a recent social media post that there is "no legal basis" to use the 14th Amendment to remove him from the ballot.
Source link