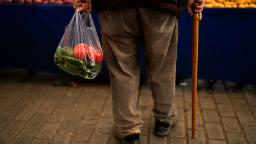 London
CNN
 — 

Turkey's central bank almost doubled interest rates to 15% Thursday in a dramatic reversal of its unorthodox policy of cutting the cost of borrowing to tame painfully high inflation.
Annual consumer price inflation has come down from a two-decade high of 85.5% in October but was still 39.6% in May.
The central bank said that there were indications that underlying inflation in Turkey was increasing, even as inflation in many other countries trends downwards.
"The strong course of domestic demand, cost pressures and the stickiness of services inflation have been the main drivers," the central bank said in a statement.
This is the first rate decision by Turkey's central bank since last month's reelection of President Recep Tayyip Erdogan.
It is also the first rate increase in more than two years, and the central bank's first decision since the appointment earlier this month of new governor Hafize Gaye Erkan, a former Goldman Sachs banker and the first woman to hold the position.
In its statement, the central bank said it hiked rates to bring down inflation "as soon as possible," and that it would continue to do so gradually "until a significant improvement in the inflation outlook is achieved."
Liam Peach, senior emerging markets economist at Capital Economics, wrote in a Thursday note that there were "encouraging signs" from the central bank that further rate hikes were ahead.
The London-based research firm expects Turkish interest rates to rise as high as 30% later this year.
Erdogan had ordered his central bank to cut rates nine times since late 2021, taking them to 8.5%, even as inflation around the world started to accelerate and most economies were doing the opposite. In that time, the value of the Turkish lira crashed 170% to a record low against the US dollar.
A weaker lira has aggravated Turkey's cost-of-living crisis by making foreign imports more expensive, and pushed the government to use up billions of its foreign currency reserves in an attempt to boost the currency's value.
Erdogan — who has fired four central bank governors in as many years — has since tried to reassure investors that he intends to normalize Turkish economic policy by filling key posts with more orthodox figures such as Erkan.
This month, Erdogan also appointed Mehmet Simsek, Turkey's former deputy prime minister and finance minister, and a former economist for US wealth management firm Merrill Lynch, as his finance minister.
But the lira weakened further after Thursday's rate hike news, dropping more than 2% to a new record low of 24 to the US dollar.
Craig Erlam, senior market analyst at Oanda, noted that the rate hike had come in at the lower end of market forecasts, and investors couldn't afford to relax too soon.
"Erdogan hasn't really hesitated to sack [central bank] governors that raise rates in the past, so investors will never feel fully at ease as long as he's president," he wrote in a note.
Source link