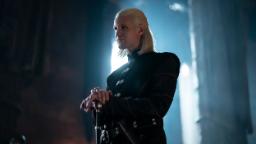 London
CNN
 — 

As a host of Hollywood actors join film and TV writers in a strike against major studios and streaming services, filming and production of some popular shows – including "House of the Dragon" and "Industry" – could continue, due to UK strike laws.
Though British acting union Equity said it would "stand in unwavering solidarity" with Screen Actors Guild-American Federation of Television and Radio Artists (SAG-AFTRA), it advised "SAG-AFTRA members currently working under an Equity UK collective bargaining agreement should continue to report to work."
This, the 47,000-member union noted, was due to the UK's "draconian" industrial relations legislation, which it called "a national disgrace" in need of reform.
A large portion of filming for HBO's "Game of Thrones" spinoff "House of the Dragon" took place in England, with the show's base being Leavesden Studios in Watford, near London. HBO announced in April that production had begun on season 2, which is slated for next year.
Another HBO show, "Industry," which was renewed for a third season last year, was filmed in London and Cardiff, Wales. In March, Joseph Charlton, writer and consulting producer on "Industry" season 3, told Digital Spy that casting had begun for the season.
A source with knowledge of the productions confirmed to CNN that both are Equity contract shows.
HBO, like CNN, is a unit of Warner Bros. Discovery.
Paul Fleming, General Secretary of Equity, said in a statement: "The regrettable consequence of this framework is that what artists working in the United Kingdom – whether SAG-AFTRA and/or Equity members (or both) – can do, may be different from their comrades in the United States and other parts of the world."
SAG-AFTRA, which represents about 160,000 actors, began a strike at midnight Pacific time Friday morning after talks with major studios and streaming services failed. It is the first time its members have stopped work on movie and television productions since 1980, after a final day of negotiations on Wednesday did not produce an agreement.
Actors are calling for increased pay as well as progress on residuals paid for when films or shows are shown again, particularly on streaming services. They join 11,000 members of the Writers Guild of America, who have been on strike for two months.
Production of many movies and television shows has already been shut down by the current writers' strike, and the actors' strike threatens to bring most remaining productions to a halt, other than on some independent films not associated with studios.