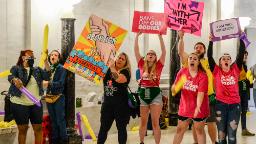 House Bill 302, passed the state Senate in a 22-7 vote, and the House gave it final approval in a 77-17 vote. The bill, which would significantly curtail access to abortion in a state where it is
currently legal up to 20 weeks
post-fertilization, now goes to Republican Gov. Jim Justice's desk for signature.
According to the engrossed draft of the bill, any physician or other licensed medical practitioner who intentionally or recklessly performs or induces an abortion in violation of the law could be subject to discipline, including losing their medical license.
Women who receive
abortions
will not face any penalties, according to the measure. It also allows some exceptions for victims of rape or incest as long as the incident is reported to law enforcement.
The measure was swiftly denounced by abortion rights advocates on Tuesday.
Since July, abortion had been legal up to 20 weeks in West Virginia, after a state court judge indicated that she had decided to block a state abortion ban dating to the 1800s.
This story has been updated with additional details Tuesday.