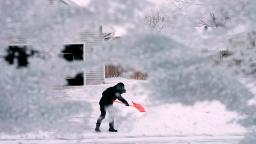 The Memphis Light, Gas and Water Division is implementing systemwide "rolling blackouts" as extreme cold temperatures and high demand across the system have caused "a critical power supply situation."
The blackouts started at 12:30 p.m. ET Friday in an effort to avoid "major outages," it said.
Service to an area will be interrupted for 30 minutes, and customers may experience outages up to two times a day on average, according to a release from the utility company.
It's unclear how long the rolling blackouts will be in effect.
Water pumping stations, sewage treatment plants, hospitals and airports are excluded from the blackouts, according to the utility company.
"This is a real struggle. This has never happened in my lifetime; this hasn't happened in Memphis in at least 50 years," Mayor Jim Strickland told CNN's Kate Bolduan on Friday.
About 10,000 residents are currently without power, the Memphis mayor added.
Wind chills today are expected to reach as low as -15 degrees and road conditions have not improved in the city, Strickland said.
"Roads will be frozen for a couple of days. Memphis is not used to this," Strickland said. "This is different for sure." 
The Tennessee Valley Authority did not anticipate this situation prior to the storm, Strickland said.
In a statement, the authority said it is asking businesses and homes to immediately reduce power usage. "It is a necessary step to prevent far greater power interruptions affecting the entire area," it said about reducing power supplies to some areas.
CNN's Marie Malzberg contributed reporting to this post.