Ukraine's forces are making more progress in the country's southern Zaporizhzhia region, while Russian troops have intensified attacks in areas surrounding the embattled city of Kupiansk on the eastern front line, the Ukrainian military said Sunday.
Around Kupiansk: Russia "has significantly increased the number of attacks. As of yesterday, the enemy shelled the positions of our defenders 620 times and carried out 15 airstrikes," Illya Yevlash, a spokesperson for Ukraine's forces on the eastern front, said on national television.
"However, the enemy's emphasis has changed somewhat. They are shifting their focus from the Kupiansk sector to Novoiehorivka," Yevlash added, referring to a village northeast of Kupiansk.
Ukrainian forces repelled 10 attacks in the area over the past day, the spokesperson said.
Russian shelling around Kupiansk has been so intense in recent weeks that it has prompted one of Ukraine's largest-scale evacuations of the conflict.
Near Bakhmut: Ukraine is still on the offensive in the Bakhmut direction, and continues to advance "meter by meter," Yevlash said. Over the past day, Russian forces shelled Ukrainian positions 590 times, using multiple rocket launchers and cannon artillery of various calibers, according to the spokesperson.
A total of 14 combat engagements took place on Saturday, Yevlash said. "The enemy is resorting to counterattacks, trying in vain to regain lost ground," he added, noting that Russia's tactics "remain virtually unchanged" in the area.
Since the Wagner private military group claimed to capture the eastern city in May, Ukraine has maintained that it is still fighting for Bakhmut and picking up gains in territory immediately surrounding the city.
Zaporizhzhia region: In southern Ukraine, Kyiv's forces continue to advance near the village of Robotnye, said Oleksandr Shputun, a Ukrainian military spokesperson for units in the region.
Ukrainian troops are advancing in the direction of Novoprokopivka — another village, located just south of Robotyne — and north toward the settlement of Mala Tokmachka, Shputun said on national television Sunday.
"Recently, the enemy has increased the number of airstrikes," he said. "But this also means that other firepower is no longer able to hold back the progress of our troops."
Ukraine has claimed successes in Robotyne and surrounding areas over the past several days, with social media video and images showing troops had entered the village. Almost no buildings are still standing in Robotyne, Kyiv's forces say.
Here's where the state of control stands in Ukraine: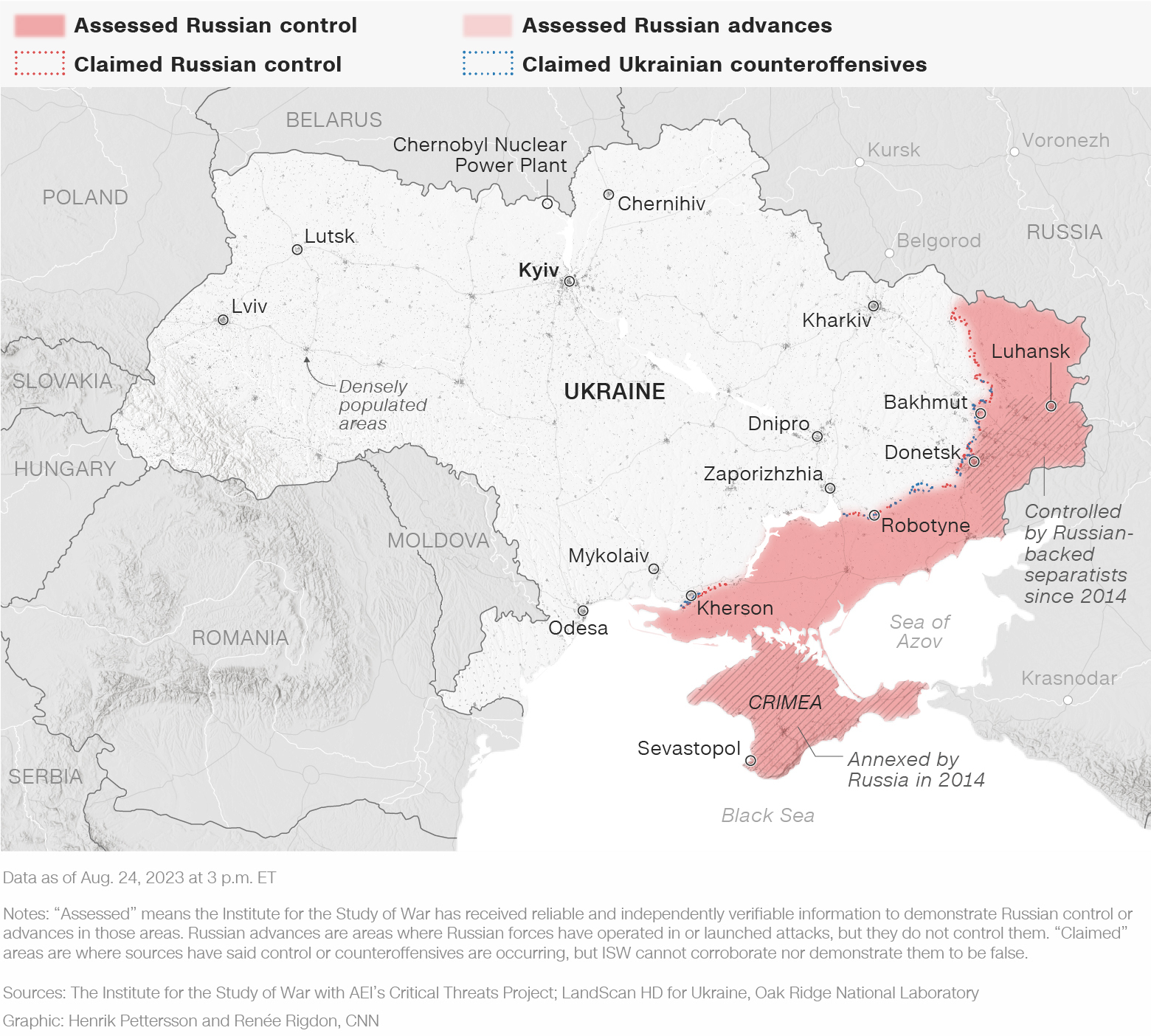 Source link